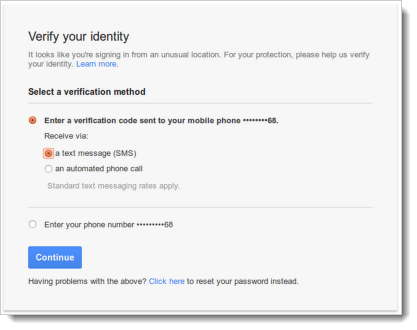 This summer Google made
account verification
a default security feature for almost all Google Apps customers. To the right is a sample screen capture of the verification pop-up box.
This should NOT impact students and staff logging in to their GTSD accounts.
K-12 EDU users will be asked to enter their usual login location when a suspicious login is detected. We will not attempt to verify the account by phone, and these users will not see the interstitial page that asks to verify their phone number.
While it was promised that K-12 EDU accounts would not be effected by this change, there were some hiccups during the initial roll out. If you or your students experience a request to verify identify using SMS or phone, please contact a member of the district Tech Team with the effected usernames.
To read more about this security update visit the Google Help page titled
"Login Challenge for suspicious sign-ins."